MOST PLASTIC BUMPER REPAIRS CAN BE CARRIED OUT ON THE VEHICLE!
Scuffed or scratched your Bumper? Why not let our mobile technicians carry out the repair at your home or place of work at your convenience. Bumper needs to be plastic welded ? No problem we may be able to help just forward a few photo's of the damage and we will let you know. We offer an unrivalled service and yes we actually turn up on the day we say, all we need is to be able to park near to your car and have access to a power point .We can refurbish cracked and scuffed bumpers, returning them to their original appearance, again saving you time and money over original parts and body shop prices A plastic bumper split or scuff can usually be restored to an "as good" condition within a few hours, so no losing your car for day's we offer a quick convenient service for customers in and around South Wales including Cardiff,Swansea and Newport as well as Bridgend and the South Wales Valleys. .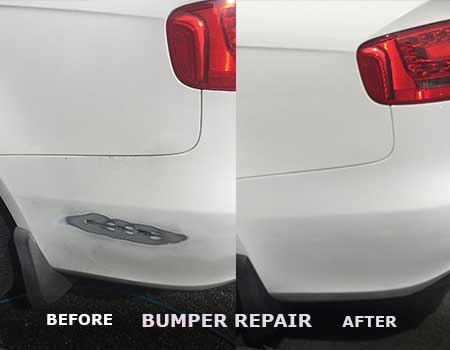 DID YOU KNOW THAT 95% OF ALL CAR BUMPERS ARE MADE OF PLASTIC?
Other car components manufactured from a variety of plastics are grills, light surrounds, mirror casings, bumpers, spoilers, body skirts, interior trims, door & boot trims and even whole body panels. Many of these car parts including bumper scuff repairs can be repaired by welding if damaged rather than replacing. The reasons are that plastic offers a structural strength of steel, but by virtue of its greater elasticity, minor impacts that could deform steel beyond repair can be absorbed by plastic. So why replace when we can repair, just give us a call for friendly help and advice.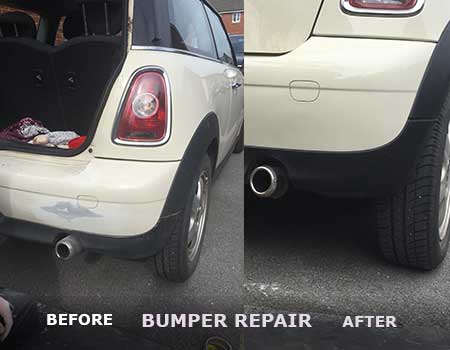 READY TO BOOK YOUR REPAIR?
It Simple get your free estimate now and get that damage fixed fast!
[prs_reviews_widget popup_mode=1].
[prs_reviews aggregate_rating=1 random_reviews=1 limit_reviews=1 limit_reviews_number=5]