L V V Services is South Wales Leading Car Body and Interior
SMART Repair Specialist.
Live in South Wales – We can Save You Money
"OUR BEST WORK GOES UNNOTICED"
Our Mobile Car Bumper Repair Service Saves You Time and Money as well as the Inconvenience of Losing Your Car for Day's with a Body Shop
Our fully mobile car bumper repair Smart repair service can save you both time and money without any inconvenience. A trip to a conventional Body Shop can be expensive, intimidating and time consuming. Whereas a visit from one of our Skilled repair technicians is the SMART answer, usually with major saving on traditional repair cost's as well as the convenience of the work being carried out at your home or place of work.
L V V services have been at the forefront of SMART repairs (Small to Medium Area Repair Techniques) in the SOUTH WALES area since 1994 so you know you are in good hands. Our mobile service is used daily by both trade and private customers as well as being recognised and utilised by the majority of major insurance companies and even body shops who find it cheaper and easier to use our technicians for more specialised repairs.
We provide a complete one-stop mobile service for our customers in South Wales and can repair small to medium internal and external body & trim repairs, including bumper Scuffs,scratches and cracks as well as damage to car dashboards and door trims and re colouring leather seats. We use the latest techniques and employ only the highest trained technicians each with over 20 years of mobile car Smart repair experience, ensuring a high quality service every time. Our fully mobile service is second to none and we can repair the majority of jobs at your home or office as long as we can park our mobile workshop near and have access to a power point. Most retail jobs are carried out within 24-48 hours and as we always like to say:-
"OUR BEST WORK GOES UNNOTICED"
WE COME TO YOU – ON THE DAY WE SAY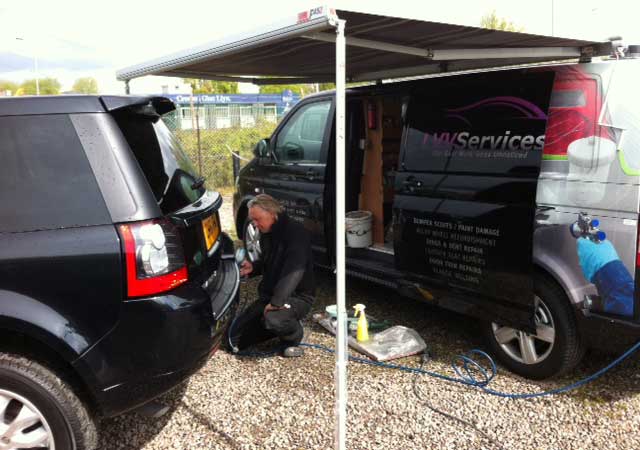 We cover most areas of SOUTH WALES including CARDIFF, BRIDGEND, NEWPORT, SWANSEA and the SOUTH WALES VALLEYS.
Save time and money without the inconvenience.

QUALITY REPAIRS
We achieve a very high quality durable repair.

FREE – Estimate
We can usually give you a price from a couple of photos and if we cannot undertake the job, advice will be given as to the best course of action.

CONVENIENT WE COME TO YOU
An average job takes around 1-3 hours at a time suitable for you. Repairs can usually be carried at your home or place of work.

COST EFFECTIVE
We repair only the damage not the whole part.

ENVIRONMENT REPAIRING
Repairing as opposed to replacing saves both the environment and you the customer.
As well as Helping the planet

INSURANCE EXCESS SAVINGS
In most cases the repair cost will be less than your excess not to mention any increase in your annual premiums if you make a claim.
[prs_reviews_widget popup_mode=1].
[prs_reviews aggregate_rating=1 random_reviews=1 limit_reviews=1 limit_reviews_number=5]