L V V Services is South Wales Leading Car Body and Interior
SMART Repair Specialist.
Live in South Wales – We can Save You Money
"OUR BEST WORK GOES UNNOTICED"
Our Mobile Car Bumper Repair Service Saves You Time and Money as well as the Inconvenience of Losing Your Car for Day's with a Body Shop
Our fully mobile car bumper repair Smart repair service can save you both time and money without any inconvenience. A trip to a conventional Body Shop can be expensive, intimidating and time consuming. Whereas a visit from one of our Skilled repair technicians is the SMART answer, usually with major saving on traditional repair cost's as well as the convenience of the work being carried out at your home or place of work.
L V V services have been at the forefront of SMART repairs (Small to Medium Area Repair Techniques) in the SOUTH WALES area since 1994 so you know you are in good hands. Our mobile service is used daily by both trade and private customers as well as being recognised and utilised by the majority of major insurance companies and even body shops who find it cheaper and easier to use our technicians for more specialised repairs.
We provide a complete one-stop mobile service for our customers in South Wales and can repair small to medium internal and external body & trim repairs, including bumper Scuffs,scratches and cracks as well as damage to car dashboards and door trims and re colouring leather seats. We use the latest techniques and employ only the highest trained technicians each with over 20 years of mobile car Smart repair experience, ensuring a high quality service every time. Our fully mobile service is second to none and we can repair the majority of jobs at your home or office as long as we can park our mobile workshop near and have access to a power point. Most retail jobs are carried out within 24-48 hours and as we always like to say:-
"OUR BEST WORK GOES UNNOTICED"
WE COME TO YOU – ON THE DAY WE SAY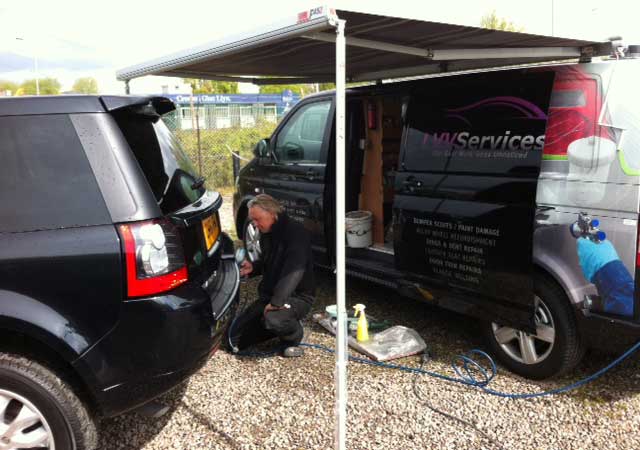 We cover most areas of SOUTH WALES including CARDIFF, BRIDGEND, NEWPORT, SWANSEA and the SOUTH WALES VALLEYS.
Save time and money without the inconvenience.

QUALITY REPAIRS
We achieve a very high quality durable repair.

FREE – Estimate
We can usually give you a price from a couple of photos and if we cannot undertake the job, advice will be given as to the best course of action.

CONVENIENT WE COME TO YOU
An average job takes around 1-3 hours at a time suitable for you. Repairs can usually be carried at your home or place of work.

COST EFFECTIVE
We repair only the damage not the whole part.

ENVIRONMENT REPAIRING
Repairing as opposed to replacing saves both the environment and you the customer.
As well as Helping the planet

INSURANCE EXCESS SAVINGS
In most cases the repair cost will be less than your excess not to mention any increase in your annual premiums if you make a claim.
5.0 Rating From 22 Reviews.
What a fantastic job
Had a couple of dents removed from my black Kuga last week. What a fantastic job and what a nice couple of guys. Easy to deal with, punctual and professional. Will definitely use their services again and would recommend to anyone. Thanks Steve.
Sorted my seats with burn holes
Restored my alloy and sorted my seats with burn holes. Can't fault at all.
Repaired my seat fast
Repaired my seat fast with no hassle! Fantastic efficient service, worth the money!
Great service excellent repair
Great service excellent repair on small dents on my Audi Q5 drivers door, can't tell its been repaired. Prompt arrival at my home two great guys excellent price. Definitely recommend,would use again if needed.
Repair job was amazing!
Great service and came to the house which was a massive bonus! Had a scuffed black alloy, the repair job was amazing! Looks like new! Definitely recommend to anyone looking for a car repair!
Came to sort out a dent and some scuffed paintwork on my Maserati!! First class job quick and professional can't see the repair - recommended
Excellent job
Excellent job, thank you Steve & Carmond very pleased with what you did I definitely use you again and definitely recommend you, once again thanks
Excellent job
Did a repair on my machine cut alloys came to my house were honest before they started that as it was a machine cut they could do a repair but not exactly match the finish well i'Il defy anyone to spot the repair it is an excellent job would defiantly recommend
HIGHLY RECOMMENDED
Fantastic job Carmond! Very happy with the job you done for the wheel on my car and just a small fraction of a full refurb. Honest service, friendly and reasonably priced finished to a very high standard and a nice chat whilst the work was completed. Can not ask for more... HIGHLY RECOMMENDED
Good Value for money
Good Value for money
Very happy
Very happy with my bumper repair and cost
Very fair pricing
Had the steering wheel refurbed brilliant job looks like new, attention to detail is excellent, its made my car look a lot better, i would def recommend, with very fair pricing
Great service
Great service, work and guys. As an accident prone driver I will definitely use them again!
Arrived on time
A great job gents. Arrived on time and were polite friendly and knew exactly what they were doing. I have no hesitation in recommending LVV Services. Thanks loads
Fantastic service and a fantastic price!
Fantastic service and a fantastic price! Would recommend them to anyone! My car looks good as new and it was completed in under an hour! Thank you guys!
Very high quality work
Had a scrape to the wheel arch repaired on TT and repairs to worn driver seat bolster. Very prompt and quick, very high quality work. Would definitely recommend
Highly recommend!!
Highly recommend!! Great job on a bumper repair, very professional service
Highly recommended.
Excellent service! Very professional and easy to deal with. Highly recommended.
Brilliant guys!
Brilliant guys! thank you so much for making my bump look a lot better! ? 100% recommend
Very good service!
Very good service! Great repair on my Hyundai rear bumper, can't tell its been repaired. Excellent price. Definately reconmmend,would use again if needed. Bonus of having repair completed on your own driveway!
Great work carried out
Repaired two alloys for me. Great work carried out, friendly and fun service from the two gents and good value for money. I would definitely recommend.
Very pleased
Very pleased with the work done by Carmond at LVV services. He managed to come out to do the work the day after I contacted him. Disguising/repairing a cigarette burn on the back seat. Looks good as new and at a reasonable price. Would definitely recommend. Very helpful and great friendly service.