WHAT IS PAINTLESS DENT REMOVAL?
Paintless dent removal (PDR) is a process that reforms metal back to it's original condition, without affecting the paint finish.
The myth about dry ice, plungers and suckers for removing dings and dents from cars is simply NOT TRUE . With the L V V Dentmaster process, there are no smoke and mirrors just highly skilled technicians with 20 years of experience removing car dings and dents. We have developed hundreds of tools to repairs dings, dents, creases and hail damage. We have been removing dings and dents for customers in South Wales and the Welsh Valleys for over twenty years so each paint less dent repair technician has removed thousands of dents over the years.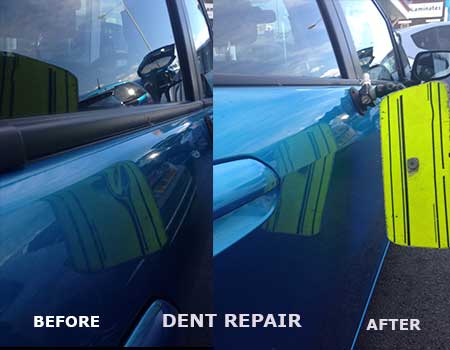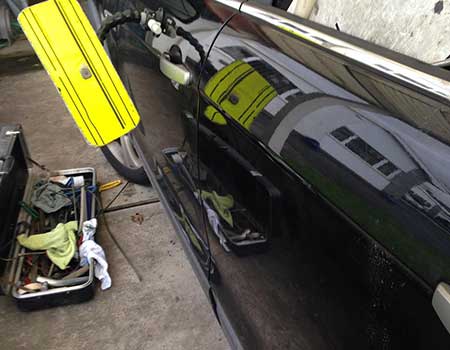 Working from behind the panel, L V V Dentmaster technicians use specially designed tools to massage the metal back to it's original shape. NO sanding, filling or repainting is required. The factory finish remains intact whilst the vehicle remains structurally sound. We often refer to this PDR as an art rather than a procedure. The result differs from Dentmaster to Dentmaster or it should be said from artisan to artisan. With each repair completed the PDR technician's skill and experience broadens. Since our Dentmaster technicians have been removing dings and dents for over twenty Years, you will have Some of the most experienced dent removal experts available at your service. Our technician's will each have literally removed thousands of dents.
READY TO BOOK YOUR REPAIR?
It Simple get your free estimate now and get that damage fixed fast! Usually all we need is 1-2 photo's of any dent and we can give an estimate.
[prs_reviews_widget popup_mode=1].
[prs_reviews aggregate_rating=1 random_reviews=1 limit_reviews=1 limit_reviews_number=5]